Throughout my career I've been blessed to be able to come alongside a number of authors and serve either as their ghostwriter, or their editor. What a privilege to lend a hand in helping others fulfill their book-writing dreams. This is by no means a full list of those I've assisted through the years, but this is a good cross section. Look for these books on Amazon and check them out. You may find exactly what you're looking for.

The nation sits precariously on the brink of total collapse. Natural disasters, changing weather patterns, food shortages and riots in various cities led the President to declare Martial Law. A secret government commission, empowered by presidential order, each day strengthens its stranglehold on the freedoms once enjoyed by all. Unknown except to an elite few, the Triad Commission is secretly orchestrating the ongoing crisis in order to initiate an ultimate and complete takeover of the nation. Dark times have befallen the United States of America.
A lone Alaskan pastor, Joshua Jacobson, unwittingly finds himself in possession of the truth that exposes the devious plan of the Triad. Problem is, he doesn't know what that truth is. Given the task of delivering the encrypted message to the right people, he finds himself on the run. But, who are the right people and is the information he carries truly needed to save the country?
Pursued through the wilderness of Alaska by the military, federal marshals and the FBI, Joshua is soon surrounded with no way out. From Alaska, across the continental United States to Washington D.C. one lone man runs for his life and to protect the truth that has something to do with the bond.
The secret of The Bond will keep you guessing until the very end.
NOTE: I served as the editor for this exciting, edge-of-your-seat novel. I was amazed at the high quality of writing from a first-time author. Bill lives in Alaska with his wife Rose, where they serve as pastors.
Like Bill on his FaceBook page!

I had to learn the hard way. You don't have to! "My life sucks! Will things ever get any better? There is no way out of this."
For years of my life, I constantly thought and said these things. When I reached my lowest point of desperation, I was a "garbage head," willing to consume any drug, deep into cocaine addiction, and plagued with depression and anger from which I could not break free. I wished for death because that seemed to be the only way to escape the pain permanently. After a failed suicide attempt, I ended up in a padded cell with "God is Fake" scratched into the wall by a previous occupant.
I had hit rock bottom with a crash. That is where I found God and began my journey out. The book you are now holding, The Hard Way, is the one I wish I'd had when my rut was the deepest and my nights were the blackest. Whether you've been where I've been, are headed there, or even gotten out, you will find in these pages inspiration, hope, and a proven pathway out of the rut you've been living in. Don't go through the pain of the hard way. Leave your rut behind and live your dreams. Your life is a legacy that will impact generations. Read this book, The Hard Way, find new life… and live it.
NOTE: I was privileged to work closely with Jeremy to bring this book to fruition — both as ghostwriter and editor.  The book is receiving national attention and is instrumental in helping many to be set free from bondage. Jeremy and his wife, Annie, along with their two children live in Cedar Hill, TX. Jeremy serves as the director of student ministries at Trinity Church. He is also the Co-Founder and Pastor at SOZO Ministries  
Like Jeremy on his FaceBook page.


Having faced many overwhelming odds during his lifetime, Pastor Brent Phillips is now teaching others that by employing the same principles used by Nehemiah, anyone can live a life of great significance and make a difference through this highly motivational book.
Teacher and Pastor, Brent Phillips, has lived a life full of challenge. Kicked out of their home by his father, Brent, his mother and brother began a journey of living by faith on a daily basis believing God for food and shelter and healing. Now, decades later, Brent Phillips' powerful new book is helping thousands overcome their own odds, live a life of enriching significance and make a difference.
In fact, 'Choosing Significance – Against All Odds' is poised to be a life-changing text for all who read it.
Do you want to live a life of significance? Do you need inspiration? Do you want to make a difference?
This motivational book will ignite your Christianity to make a difference in the lives of others, the true secret to happiness. Live a life of significance.
NOTE: It was with great joy that I worked alongside Brent to both ghostwrite and edit his book on how we can live a life of significance. This book is touching and changing the lives of many. Grab your copy today. Brent lives with his wife and two children in Houston where he serves as a pastor.

Check out Brent's website here


You know those guys that run up and down a basketball court wearing stripes, blowing a whistle and get yelled at by coaches and fans? Well, one of those guys is my guy. The Official Wife is the story about a being married to a basketball referee, having four small children, and finding my way as a wife and mother. It is humorous and heartfelt as well as a real life love story. It also gives an insight into the life and career path of a referee. Details are given about how these guys get hired and what kind of yearly schedule as well as a behind the scenes look at the world of officials.
Being married can be difficult at times but when you are married to a ref (or coach) it can get even harder. I had no idea what I was really getting into when I got married to my ref and it has been ten years of getting adjusted. Throwing our small kids into the mix just made it even more interesting and way more entertaining. Along the way I learn about myself and my courage and somehow find my own strength.
NOTE:  Crystal tells a story that definitely needs to be told. I laughed and cried along with her as I served as the editor for her book. Check out her bio on her lively Official Wife website.

Check out Crystal's website here.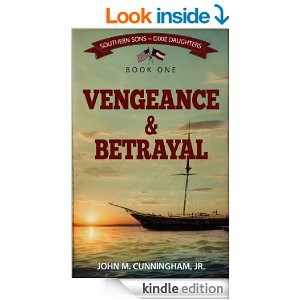 A sweeping saga of the Civil War's naval campaigns, this is the first book in the Southern Sons-Dixie Daughters series. It follows four Southern families living on the Gulf Coast—the Westcotts, the Jessups, the Soileaus, the indomitable and devout slave Danny who escapes bondage and finds service aboard a Union warship and his wife Nancy, cruelly whisked out of his life decades before the war.
While the Confederacy struggles to build a navy to defeat the Yankee fleet threatening New Orleans these families quarrel, wrestle personal demons, and engage in forbidden courtships. For those in naval service–-Danny and Confederate Lieutenant Benjamin Westcott, whose family owns Nancy–-vengeance and betrayal approaches as the battle of New Orleans draws near. If the Westcott's butler Titus succeeds in his plan, and Ben's mortal enemy Master Xavier Locke of the USS Madison gains the upper hand, both Danny and Ben will suffer heartache and loss in vastly different ways.
Unlike most Civil War novels which focus on armies and land campaigns, this two part series is set against the backdrop of New Orleans, Mobile, and David Glasgow Farragut's naval exploits.
Note: What a privilege I have had through the years to work alongside John as his critique consultant and editor for this amazing novel. John is no stranger to hard work. No matter what changes and edits were required he threw himself into the work with unflagging energy. He is a researcher deluxe and is a stickler for details. Not only does this novel present powerful action and drama, but readers learn a great deal about the Civil War navies.
Check out his blog site here!
Like his FaceBook page here!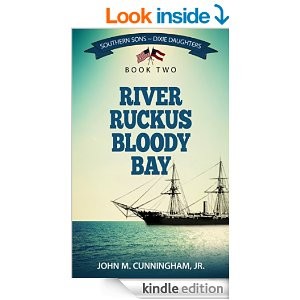 While Moxley Westcott flees to Mobile to escape arrest by the Union army his brother Ben, critically wounded and a prisoner, hovers at death's door. Their parents and their sister Annie return to their plantation upriver, unaware that danger lurks very near, and the evil Xavier Locke is planning their demise.
For the Jessups, Susan's personal problems continue; Alex finds service aboard a new Confederate cruiser which is soon plagued by yellow fever, the same disease that killed his and Susan's sister many years ago.
Meanwhile, Philippe and Annie's former suitor, Randall Bartlett, fight the Yankees farther north.
Closer to home, Nancy endures Titus's verbal and physical abuse. If Danny can't find forgiveness in his heart and doesn't survive the war, he'll never discover his true destiny, and Nancy will suffer till her dying day.
This second installment of Southern Sons-Dixie Daughters continues the triumphs, conflicts, and tragedies of these four Southern families against the sweeping saga of the Civil War's western naval campaigns. Who will live to see the end of the war? Who will die? Who will choose change rather than a hardened heart?
Note: What a privilege I have had through the years to work alongside John as his critique consultant and editor for this amazing novel. John is no stranger to hard work. No matter what changes and edits were required he threw himself into the work with unflagging energy. He is a researcher deluxe and is a stickler for details. Not only does this novel present powerful action and drama, but readers learn a great deal about the Civil War navies.
Check out his blog site here!
Like his FaceBook page here!


The Bible is full of stories about the wondrous miracle working power of God. He parted seas, healed the sick and even raised the dead. But why don't we see such miracles today?
From the marvel of the unending flour and oil of the widow of Zarepath to the miracles in his childhood home of South Africa, experience God's wondrous touch in real life situations, as Brent Phillips illustrates how to Experience Miracles today.
In the words of Gideon: "Where are the MIGHTY WONDERS that our fathers told us about?"
Does God still do miracles today? If so, How Can We experience miracles?
In this refreshing new look at miracles, Brent Phillips answers these questions and many more.
Experience Miracles is full of powerful personal testimonies, sound scriptural insight and practical steps for seeing God's power at work in your life and the lives of others.
Note: Yet another exciting Bible-based book from Brent Phillips. What a feast to my spirit to work alongside Brent as his editor on his books. If you're not sure about the existence of  miracles in today's modern world — check out this book and see what happens!
Check out Brent's website here
Visit his FaceBook page here.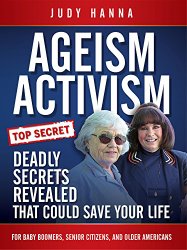 Deadly secrets revealed that could save your life. AGEISM ACTIVISIM exposes the uninvestigated deaths of millions of people over the age of sixty, the quiet epidemic of homicides that are undetected and unpunished.     Know where the dangers are and how to avoid them. Explore the many ways senior citizens are mistreated, the civil rights that are violated daily in America, how to recognize the signs of mistreatment and where to seek help. What if your wife, husband, parents or grandparents could have lived years longer? What if someone or something caused those deaths and no one knew or even suspected?
NOTE: What a powerful and eye-opening book Judy Hanna has written — all in defense of our senior citizens. I was so honored to be the editor and consultant on this book. She kindly expressed her appreciation for my expertise on her acknowledgment page. This is a must-read for every citizen. Because either you have a relative who is a senior citizen, or you are one — or you WILL BE ONE!