The Norma Jean Lutz Classic Collection
This collection includes re-released titles of previously-published sweet teen romance novels
I hear from parents and teens alike who are searching for clean, lighthearted, novels. This is why I made the decision to bring back the novels that I authored in the 80s and 90s. Reading audiences deserve a choice and I want to give them that choice. Books in the Classic Collection are:
Clean teen reads
Timeless story lines that never grow old
A choice for readers in reading materials and themes
Classic reads from a more innocent era
These story plots are timeless; such stories never grow out of style in spite of the fact they were penned several decades ago.

First Title in the Norma Jean Lutz Classic Collection
 Flower in the Hills
 or
      
Glowing Review for Flower in the Hills
          This book is a story of a girl's "coming of age" – the time when a teen doesn't get she wants, and learns to be okay and flourish in the situation. Latina is forced to spend the summer in the Ozark hills instead of the beach with her summer boyfriend. Her first impressions of the hills and the people are negative, and she expects to be miserable all summer. At first she is, until she opens up and meets a friend, Donna Dee, and a hard-working young man named Tully. Latina begins a subtle change inside, and before long, she is enjoying herself in the backwoods town. Then her ritzy summer boyfriend comes to see her, and she realizes how shallow their relationship is. Latina starts seeing Tully in a different light, and learns that she has a gift of working with Tully's handicapped sister. Norma Jean writes with a lot of insight as to how teens think and feel. This is a clean, great story about letting go of preconceived notions of other people and places, and of blooming where you are placed.

Second Title in the Norma Jean Lutz Classic Collection
Tiger Beetle at Kendallwood
or

Glowing Review for Tiger Beetle at Kendallwood
          A great book filled with fascinating characters and an excellent plot that held my interest all the way to the end. All the characters seemed to pop off the page! Many reminded me of people I'd known during my high school days. I loved how Marcy and Cissy, though twins, were total opposites in personality and interests. Marcy is not a stereotypical teenage girl. I sympathized with her because she always seemed to get caught in the middle of Cissy's amusing (and often annoying)antics as she competed with the story's domineering Southern belle, Maureen, both of whom had their hearts set on football hero Spence. These characters, coupled with the plot's twists and turns, kept me wondering what Spence was really all about. I won't ruin this story by divulging that here. What's up with Spence kept me reading till the book's very end. A great, and entertaining, read!

Third Title in the Norma Jean Lutz Classic Collection
Rockin' into Romance



or

Glowing Review for Rockin' Into Romance
          Love is music, and music is what rocks our world – I simply fell in love with this teen-romance as it is timeless and sweet and made me turn back in time and revert to my high-school memories, something I haven't done in a while. School, love, friendship and passion for music is what governs this story. I found it very interesting how Norma Jean Lutz managed to create the whole plot around music. Ari, the main female character of this romance, is the timeless role model for teenagers : she loves music, she is serious about her school, she hangs out with her friends. she has fun and she falls in love. Reid, the main male character is, on the other hand the "Justin Beiber" of the 90's, good looking, famous at only 16 years old, wanted by many girls, except Ari. When Ari and Reid meet and are forced to spend time together – sparkles will arise. A great teen romance for readers of any age.


Fourth Title in the Norma  Jean Lutz Classic Collection 
Oklahoma Exile
or
Glowing Review for Oklahoma Exile
I bought this book before going on vacation and I thoroughly enjoyed it! This is a compelling story of my home state and a city-girl who is forced by a terrible family tragedy to stay with extended family on the farm in Oklahoma. Norma Jean's novel brought back memories of childhood friends and family, the warmth of the people of Oklahoma and the simple, hard-working life of country folk. From Kris's joy in the lightning bugs, to Amber Lynn's anticipation of the Hay Festival, to the women's joy in the kitchen, to the men's hard work in the fields, to Serena's transformation, it was a joy to read, through and through. This is a book you can just sit back and relax with, because you won't be able to put it down! I see so much of myself in Serena, since I don't quite fit the mold. But Serena finds her place and learns to appreciate both her family and the land.


Fifth Title in the Norma  Jean Lutz Classic Collection 
Forever is Over
or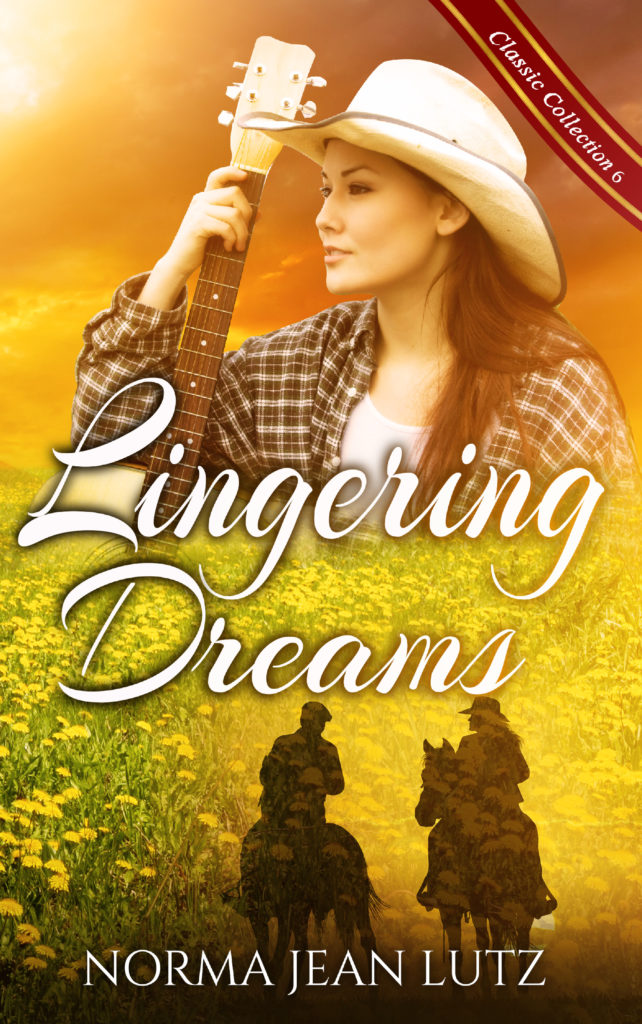 Sixth Title in the Norma  Jean Lutz Classic Collection 
Lingering Dreams
or
Glowing Review for Lingering Dreams
In an earlier time before technology entered our lives, teens met at school and talked on the phone incessantly. Lingering Dreams is one of these teen novels where a girl and boy actually talk to each other, help each other grow and realize their talents. Kirsten does not recognize her talents and believes she has few. This changes when Enrique, the foster son of her aunt and uncle, arrives to assist her father with a multitude of duties at their Oklahoma ranch. Enrique meets the people in their small town and really cares about them. He not only recognizes Kirsten's qualities but helps her to develop them in several positive ways. The author's character development brings out the best in each person and leaves the reader with a desire to linger with this family.